Displaying items by tag: coast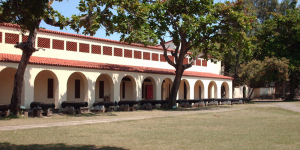 Fort Jesus was declared a national park in 1958, and in 2011, it was declared a World Heritage Site by UNESCO and highlighted as one of the most outstanding and well-preserved examples of 16th-century Portuguese military fortifications. The fort is Mombasa's most visited tourist attraction.
 
The Portuguese built Fort Jesus in 1593. The site chosen was a coral ridge at the entrance to the harbor. The Fort was designed by an Italian Architect and Engineer, Joao, Batista Cairato. The earliest known plan of the Fort is in a manuscript Atlas by Manuel Godinho de Heredia – dated 1610 which shows the original layout of the buildings inside the Fort.

The Fort was used as barracks for the soldiers. When the British protectorate was proclaimed on the 1st of July 1895, the Fort was converted into a prison. The huts were removed and cells were built. In 1958, Fort Jesus was declared a National Park in the custody of the Trustees of the Kenya National Parks. Excavation was carried out and the Fort became a museum in 1962. The Fort is now an important historical landmark in the East African region.